Shadowood Farm

2858 Palm Deer Drive
Loxahatchee, FL 33470

Laura Roesing
head trainer/instructor
(815) 814-3845
Training
Shadowood Farm attends to the special needs of each horse as an individual.  Trainer, Laura Roesing, specializes in developing horses to reach their full potential as well as creating a bond between horse and rider to enable them to become an effective team.
Laura applies classical training methodologies to create a well rounded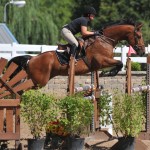 competitive horse and rider team. She is well versed in training a young horse to meet the demands of dressage through FEI levels, compete as an amateur hunter, develop skills as a fantastic jumper, or become an amateur training eventer.
Laura has personally competed through Grand Prix level in both dressage and jumper riding.