Shadowood Farm

2858 Palm Deer Drive
Loxahatchee, FL 33470

Laura Roesing
head trainer/instructor
(815) 814-3845
Laura Roesing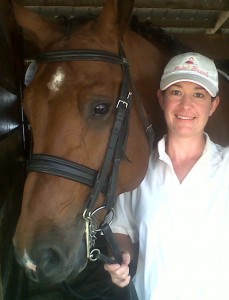 Laura Roesing, silver medal rider and trainer at Shadowood Farm, is uniquely qualified to train and teach both Dressage and Hunter/Jumper disciplines. She began her junior years earning championships in the Children's and Junior Hunter divisions where she gained appreciation for the art of riding.
Laura studied classical horsemanship at Meredith Manor International where she earned certification as a riding instructor. At Meredith Manor, Laura gained her appreciation for classical dressage, training many horses up the levels under the guidance of Faith Meredith.   Upon earning her certification, Laura continued her formal education earning a Master's degree in Psychology while she competed in the USEF talent search division, the North American League, and Marshal and Sterling Jumper classes. After moving to the west coast to work under jumper trainer Chris Harris, she competed in the 1.30-1.40 jumper divisions as well as Open Hunter division.
Laura continues to develop her jumping and dressage education working with several trainers including Mary Goldman, Anne Kursinski, George Morris, Candice King, Diane Carney, Keven Babington, JJ Tate, Alfredo Hernandez,Faith Meredith, Charles de Kunffy, Walter Zettl And Bo Jena.
Laura Has taught lessons, hosted fun shows, taught classes and camps at Shadowood farm north for 15 years.  Laura brings her passion for teaching horse care and the art of riding to Loxahatchee.
Laura's credentials:
Certified Trainer/Riding instructor- Meredith Manor International
Masters Degree in Psychology
Recent accomplishments:
Placing in Jumpers at the National Grand Prix level
Young horse training and showing in dressage, hunters, and jumpers
Clinics with Many trainers in both dressage and jumping.
Young horse cross country training to preliminary level
Young jumper FEI 1st place at A rated horse shows.
Dressage training through grand prix.
Qualified for USDF Region 2 Dressage Regional Championships I1 level
Many year-end client Championships
Clinics focusing on piaffe and passage.